Welcome to Entertainment Marketing! There are THREE online services we use to communicate and collaborate inside and outside the classroom. All of them are connected to your @stcschools.com account, and each helps us in specific ways.
Make sure you know the current password for your @stcschools.com account before you continue!

You will likely receive an invitation in Google Classroom from Mr. Weaver at the beginning of the year for the course(s) you are enrolled in. If you don't receive a direct invitation, we will take care of this in person using class codes.
Classroom

In-class Assignments
Project Overviews and Goals
Finished Project Submission

Docs + Slides

Production Documents
Digital Notes
Feedback Journals

Drive

Completed projects Storage
Digital Notes and Feedback Journal Storage
Student Collaboration
We use course folders in your personal Google Drive to keep track of everything you create! For example, if you are enrolled in Musical Engineering, you should create a folder in your Drive named "Musical Engineering" (or something similar). This folder is a home for your production documents, finished creative projects, digital notes, and feedback journal. This is good practice for any course, but for Entertainment Marketing courses it is a necessity.
The search function in Google Drive is great, but files can easily get lost without folders to keep them organized! Make sure you upload your completed projects to your course folder in Drive BEFORE attaching them to a Classroom assignment.

Our website includes a Mission Board (reddevilproductions.com/missions) enabling past and present students in the program to sign up for extra-curricular events! Our work outside the classroom is an important public service for the school and community. These events are fun opportunities for you to gain more experience operating cameras, assisting in production, and learning more about how video production works in the real world.
Videography and extra-curricular event sign-ups
Special projects and anything scheduled outside of the regular school day
Links to online resources including the Program Handbook, Equipment Check-in/Check-out, and RDP Chat
ALL extracurricular events are organized using the Mission Board. Spots for each event are limited, so be sure to sign up in advance!
Dates and times for upcoming events are public, and mission details include current student sign ups (first name + last initial). Logging in with your "@stcschools.com" account enables you to sign up for posted missions as well as see a list of your current sign-ups.


As we complete projects in and out of the classroom, you have the option of collecting evidence of your mastery in your Google Drive course folder. Once you master certain sets of skills and provide the required items, you will earn certification badges through Badgr. These badges track your growth as a creator as the year progresses, and because they are public, shareable and verifiable by others, they serve as proof of your achievement to people outside our program.
For returning students, certifications can unlock optional advanced projects that take the place of regular course curriculum. For more, please see the Certification page of the Program Handbook.
Visit our home page (reddevilproductions.com) and click the "Login" link on the menu at the top of the page.

Log in using your "@stcschools.com" account. Personal accounts are not permitted. Your account will be created using your school profile photo and name on your student account.
After logging in, you will see a new green profile icon. Following this link takes you to your student dashboard. You can also go directly to the Mission Board from the home page.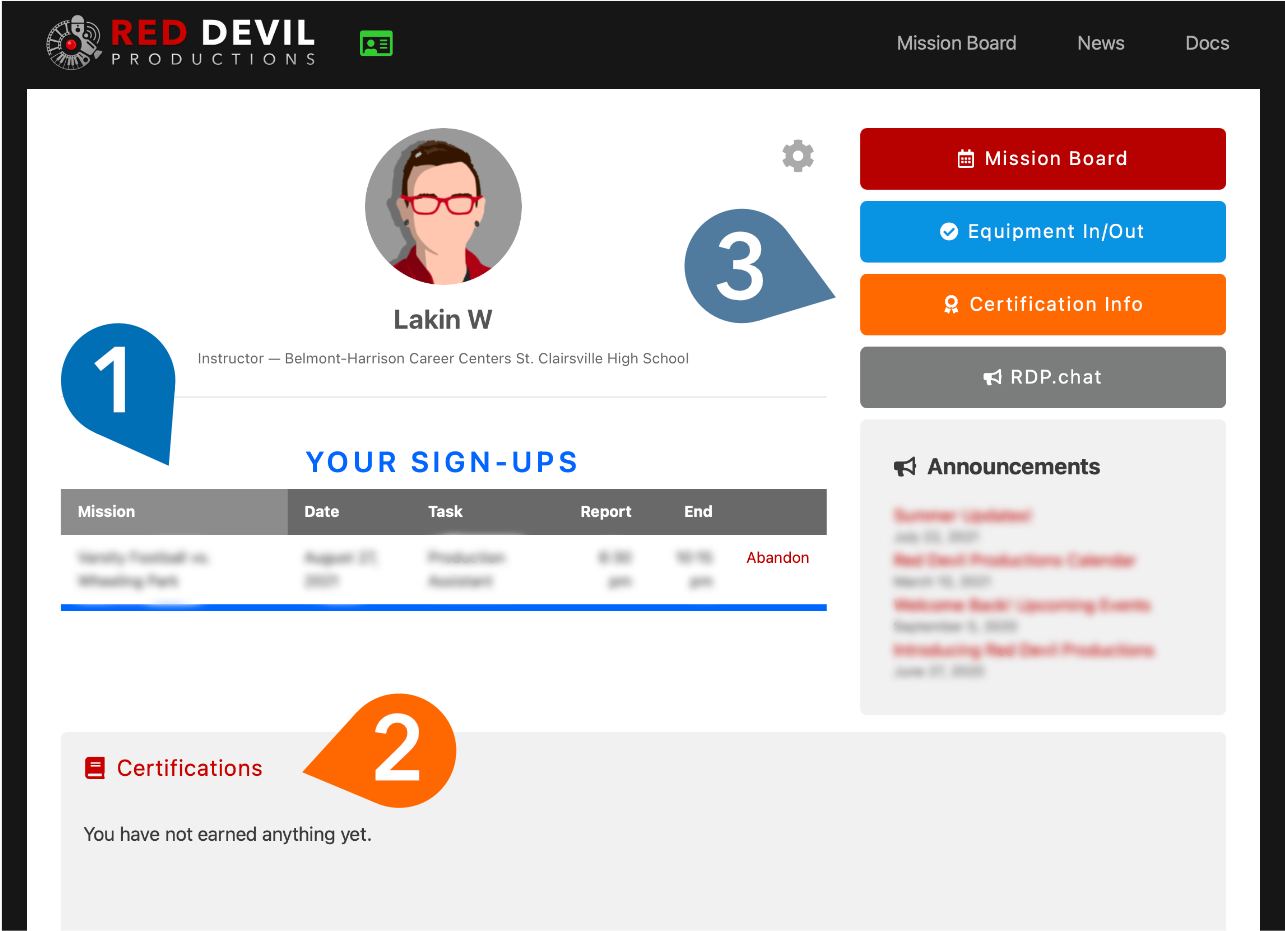 Your Active Missions (also listed on the main Mission Board)
Your Certifications
Latest announcements + Links to important services and documents
Do you go by a name other than the name on your Google account? Let Mr. Weaver know and he will update your displayed name for our website and chat services.

RDP Chat (https://chat.reddevilproductions.com) is an online message platform accessible only through your "@stcschools.com" account. In addition to group & direct messaging, you will gain access to several chat "channels," including dedicated channels for each course.
RDP Chat is built on Rocket.Chat, a popular platform used in many industries to enable communication between professionals. If you are familiar with Discord, you will feel right at home. Rocket.Chat can be accessed using dedicated iOS, Android, MacOS, and Windows apps as well as a web interface.
The Rocket.Chat app, signed into https://chat.reddevilproductions.com, is a requirement to check out equipment. please see the equipment agreement for exceptions.
In-class Discussion and "Bell Ringers"
Group & Direct Messaging
Program-wide announcements
Communication between class members
Collaboration between multiple classes
Media & Music Sharing + off-topic chat
Download the Rocket.Chat app from the App Store or Google Play Store:
Rocket.Chat for iOS
Rocket.Chat for Android

Open the app and enter chat.reddevilproductions.com in the "Enter Workspace URL" field.
On the next screen, tap "Login."
Tap "Continue with Google" and use your @stcschools.com account to log in. Just like our website, your account will be created using your name and profile image!
When you are prompted for a username, make sure your user name is "firstname.lastname" with no additions. Unlike with most online accounts, your user name cannot be a nickname. User names are used when mentioning users in messages to get their attention, so your user name needs to match the name you go by. If your user name does not follow this rule, it will be changed!
For Windows and MacOS:
Download the Rocket.Chat app from the official website, then follow the instructions for mobile devices to get connected.
When you first log in, you will see two channels: Announcements and General. Please tap into each of these channels and choose to "join" them. This will give you the ability to read and write posts as well as receive notifications when you are mentioned in a message. These channels are not course-specific, which means every student in the program will participate.
There are several optional public channels available in the browser at the top of the screen (the globe icon). Some are for collaboration between classes, some are to share your favorite songs and videos, and some are just for fun.
In addition to public channels, you will be added to your specific course's Team channel. We'll utilize these team channels year-round for collaboration, polling, and brainstorming.
At the top of the main app window, tapping the "Sorting by..." line will open up several view options. There is one highly recommended option in this menu:
Group by Type
Groups all chats by type, meaning your class-specific "Team" will appear at the top, followed by public chat "Channels", "Discussions" and "Direct Messages."
RDP.chat uses "channels" to organize messages between users. Channels can be private (only invited students) or public (any student can join), and all channels begin with a hashtag (#).
Public Channels
Team Channels
Discussions
Direct Messages

Public channels are
open to all students
. Messages sent in a public channel are visible to everyone, and anyone can respond.
While you join some public channels by default, others are listed in the channel browser and can be joined by anyone who wants to be a part of the conversation!

Teams are
course-specific private channels
accessible only to students enrolled in the corresponding course. Mr. Weaver will add you to your class's team channel after you create your account.
Discussions are special sub-channels created by Mr. Weaver for specific projects or creative teams. They are used throughout the year for collaboration between courses. Discussions are visible to any student in the channel the discussion was created in and most often appear in #general. Discussions can be hidden from your list of chats but will re-appear if another message is sent.
Direct messages are private and created on demand, just like a text message. Direct messages can include one or more students, but they can only be created by Mr. Weaver. Once created, they will be available for you to contact him when necessary. Like discussions, direct messages can be hidden from your chat list and will reappear when you recieve a new message.
Don't have a direct message open with Mr. Weaver? You can @mention him in your Course Channel and ask for a direct message to be created for you.
By default, the Rocket.Chat app will send a push notification whenever you A) receive a direct message, or B) are mentioned in a channel using the @ symbol. PLEASE MAKE SURE YOU ALLOW NOTIFICATIONS FOR ROCKET.CHAT.
Push notifications are essential for communication. You will often be outside the classroom during class, and we need a reliable way to communicate.
Your time and attention WILL be respected, and you will not recieve push messages from Mr. Weaver unless it is critically important.
Typing the @ symbol followed by a user name in your message will push a notification to that user. For example, if you had a question about an upcoming event, you could send a message in the #general channel saying:
Hey @mr.weaver, what should we wear for the event tonight?
Mr. Weaver will get a push notification and get back to you. Mentions are useful to get someone's attention when posting in a channel or discussion with many users. For example:
@john.snow did you take care of the last 3 shots of the storyboard? We HAVE to start production tomorrow.
John will get a push notification for this message as long as he is a member of the channel it was sent to. Need someone else in on the conversation? More than one user can be mentioned in a message.
@sansa.stark @bran.stark @john.snow Are you guys available after school today for open lab? We can knock this edit out...
Mentions are a great way to "loop someone in" to a conversation. Use them in your team channels!
Direct messages will trigger a push notification whenever a user is not active in the app. This is the primary reason to allow notifications, since it lets direct messages in Rocket.Chat function like text or Remind messages.
Notifications can be controlled individually for each channel you are a part of. For instance, if you are in a channel for a group project, you can choose to recieve notifications for ALL messages instead of only the ones you are mentioned in. Or maybe you are very committed to #off-topic and want to be notified about everything going on there. Go for it! At a minimum, please make sure you keep @mention notifications on for your Team channel and #general.
All this information is just scratching the surface of these platforms, and you will get tons of experience using them as the year progresses! We will review everything on this page at the beginning of the year and practice using each service during class. This page serves as a reference if you are absent for our orientation, or if you need clarification on any of this information. When in doubt, email Mr. Weaver with your questions or technical issues or ask him in person. It is essential to get connected!